(WMR)—WMR's sources in India report that Indian and Nepalese authorities are growing increasingly concerned over the massive influx of Muslim immigrants, along with Wahhabist and Salafist clerics, into the Indo-Nepalese border region. Many of the recent Muslim immigrants are from Bangladesh.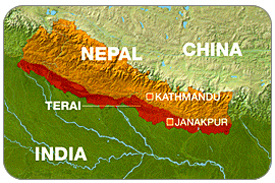 Anticipating more autonomy for Nepal's southern plains of Terai under Nepal's proposed federalization plan, Saudi Arabia and Qatar—the two chief centers for exporting Wahhabist radicalism abroad—have recently opened up embassies in Kathmandu, the Nepalese capital. From these embassies, programs are being launched to send Muslim clerics to convert Terai's "wayward" Muslims to a more "correct" version of Islam. For the Saudis and Qataris, that is the radical Wahhabist sect of Islam, which is itself a heretic belief influenced by a combination of 19th century British Colonial Office interlopers and Turkish and central European Zionists.
For many years, the Terai Muslims have kept a low profile. But that is changing with the arrival of the Wahhabist clerics, who are not merely radicalizing Nepal's Muslims but also practicing the Dawa, the conversion of people of other faiths, particularly Hindus, to the Saudi and Qatari branch of Islam.
There are now reports of an increasing number of Muslim-Hindu riots in Terai districts. These riots mirror similar Muslim riots in communities on the Indian side of the border. In September, Muslim-Hindu riots in and around Muzaffarnagar, Uttar Pradesh state left 28 people dead.
The common denominator in the cross border strife are the presence of the Wahhabist clerics and an increasing number of immigrants from Bangladesh, where there has been a widespread crackdown on Islamic radicals. Bangladesh recently hanged the 65-year old Jamaat-i-Islami leader Abdul Qader Mulla, a signal that has sent shock waves from Dhaka to Riyadh and Doha about the Indian subcontinent's aversion to Wahhabism in any form.
But rather than react to such occurrences as it always does by sending in a massive military force, India played down its reaction. In addition, the Indian Army withdrew some 50 battalions from Uttar Pradesh and the state of Chattisgarh, where there have also been riots between Muslims and local tribal peoples.
After the Muzzaffarnagar riots, Uttar Pradesh's Samajwadi Party government minister Mohammed Azzam Khan ordered all Muslims arrested released from prison. In April, Khan was detained upon arrival in the United States at Boston's Logan Airport. Khan was suspected by U.S. immigration officials of being linked to Al Qaeda and the notorious drug smuggling syndicate of Dawood Ibrahim. WMR has previously reported on Ibrahim's D-Company and its ties to the CIA and Pakistan's Inter Services Intelligence (ISI). Khan was invited to speak to the Harvard Business School, an entity with a long history of CIA links.
Associated with the presence of Wahhabist proselytizers in northern India and Nepal are drug mules importing Afghan heroin into the region. The proceeds filter back to warlords in Afghanistan who support either the Hamid Karzai government, the Taliban, or both, depending on local circumstances.
The withdrawal of Indian Army troops from the northern border region and the tolerance of Wahhabist clerics in the region also comes at a time when Indian federal and state government agencies are withdrawing from providing social services. In northern India, these services are being assumed by international non-government organizations (INGOs), many of which have ties to the Muslim Brotherhood and Saudi Islamic charities.
Our sources in the Indian capital, New Delhi report that the ultimate goal of the policy toward Wahhabist activity in northern India is the eventual creation of a northern Indian "Islamic state," which will include the Muslims of Terai in southern Nepal. The blueprints for such a state have already been drawn up by the international bankers and signed off by George Soros and his band of INGO facilitators and interventionists.
Previously published in the Wayne Madsen Report.
Copyright © 2013 WayneMadenReport.com
Wayne Madsen is a Washington, DC-based investigative journalist and nationally-distributed columnist. He is the editor and publisher of the Wayne Madsen Report (subscription required).