(WMR)—A Central Intelligence Agency's "comprehensive" report on political Islam, titled "Islam and Politics: A Compendium," a formerly SECRET document issued in April 1984 during the Reagan administration, gets more wrong than right about the nature of radical Islam. At the time the report was completed, the CIA was using radical Islamist mujaheddin groups in Afghanistan and Pakistan to fight a proxy war against the Soviet Union in Afghanistan.
One laughable statement in light of the rise of a number of Al Qaeda and subsequent affiliates and subordinates after the Soviet withdrawal from Afghanistan in 1989 is the following:
"Although fundamentalist groups can cause national crises overnight with terrorist acts, they usually lose more than they gain as the government undertakes repressive measures against them."
That certainly was not the case with the Taliban in Afghanistan, the Al-Nusra Front and Islamic State of Iraq and the Levant (ISIL) in Syria, ISIL in Iraq, and Ansar al-Sharia in Libya.
The CIA report then makes a statement that more resembles propaganda than in-depth analysis:
"Ruthless suppression has had its successes, most notable in the Communist states. Other secular states, such as Syria, Iraq, and Indonesia, have also found that repression keeps opposition manageable."
The presence of a strong Islamist group in northern Sumatra is a direct outgrowth of a CIA-funded Sumatran secession movement directed against President Sukarno in the 1950s. The fact remains that it was the CIA that began backing fundamentalist Islamists in Iraq, Syria, Chechnya, Uzbekistan, Bosnia, and other "secular" states, including more recently, Libya and Egypt. In 1984, the CIA ironically suggested that Islamist radicals could make gains from financial assistance provided by Muammar Qaddafi's Libya and the anti-Sunni Wahhabi government of Iran. In fact, it was neither Qaddafi nor Iran's Ayatollah Khomeini who supplied the radical Sunni groups with the bulk of their aid, but the CIA and its Saudi, Gulf Arab, and Pakistani allies.
The CIA also claimed "we know of no charismatic leader who transcends national lines." Of course, the CIA was then grooming Osama bin Laden as one such "transcendental" leader in Afghanistan. Bin Laden's rise to the leadership of Wahhabi Islam's most radical force, Al Qaeda, would also enable the rise of other transnational Islamist radical leaders, including Dr. Ayman Zawahiri, Al Qaeda's Egyptian number two; Mokhtar Belmokhtar, the one-eyed Afghan war veteran who leads Al Qaeda in Islamic Maghreb or AQIM; and Abu Bakr al-Baghdadi, the leader of the ISIL or the "Islamic State."
The CIA report cautions against an "overreaction" by the U.S. of an Islamic resurgence. The report claims, "In most cases, governments probably will continue to co-opt the clerics and integrate Islamic resurgence in a fashion that will not harm U.S. interests." That prediction did not come to pass in Afghanistan, Syria, briefly in Muslim Brotherhood-ruled Egypt, and Libya.
The report does include an interesting reference to an active Muslim Brotherhood cell operating since 1980 in the Galilee region of Israel. Reports of Israeli connections to the battlefield successes of ISIL in Syria and Iraq may point to Israel having co-opted the Muslim Brotherhood and other Qatari- and Turkish-backed jihadist groups in Iraq and Syria. Although there have been reports of atrocities committed wholesale by ISIL of Christian, Kurdish, Yazidi, Turkoman, and Shi'a communities and shrines in northern Iraq and Iraqi Kurdistan, there have been no credible reports of ISIl's defiling of Jewish shrines and cemeteries in regions conquered by ISIL.
The CIA's report is a typical agency product that lacks the key ingredient of "intelligence" in its formulation of an intelligence report. And it is noteworthy that at the time the political Islam report was created, current CIA director John O. Brennan was a junior ranking CIA officer responsible for collecting and analyzing intelligence on the Middle East.
Will the name "Brennan" eventually become a synonym for "incompetent" in the same manner that "quisling" now means traitor and "lynch," named for colonial Virginia Judge Charles Lynch, means dubious executions by hanging, known as "lynchings?" Perhaps one day, a poor analysis job may be known as a "brennan."
The CIA took a hostile attitude toward the former People's Democratic Republic of Yemen (South Yemen), which ultimately merged with North Yemen in 1990. The CIA was vexed that "the South Yemen radical regime has made only slight concessions to Islam and will continue to restrict fundamentalist activity." The CIA report had similar criticisms of secular, anti-Islamist governments in Syria, Iraq, Libya, and Algeria.
As for the USSR, the CIA report gloats over early Islamist extremism in the central Asian Soviet Socialist Republics. The CIA appears to relish the following events:
March 1980: Riots in Alma Ata, capital of Kazakh SSR, when Muslims refused to let dead Muslims soldiers be buried in military cemeteries.
April 1980: Assassination of Sultan Ibrahimov of Kirghiz SSR by "Muslim nationalists."
Nov. 1982: Three days of violence in Muslim-dominated North Severo-Osetinkaya in the Caucasus, included ransacking of Communist Party headquarters.
Nov. 1982: Authorities broke up a large-scale Muslim publishing operation in Uzbekistan.
These events coincided with stepped-up CIA support for Afghan mujaheddin guerrillas. At the same time, Yugoslavia began experiencing subterfuge within its own Muslim population in Bosnia, all linked to foreign interests.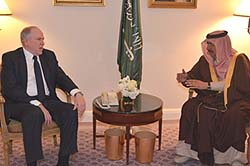 It would not be surprising if the CIA's fingerprints were on all these radical Muslim events in the Communist bloc. It would also be interesting to ascertain what CIA Director Brennan [left with his Saudi friend, Interior Minister Prince Mohammad bin Naif bin Abdulaziz] may know about Saudi "off-the-books" CIA funding for such operations by Langley's operatives that targeted the USSR and Yugoslavia.
Another formerly TOP SECRET CIA report, dated March 26, 1985, states that the CIA's mujaheddin resistance in Afghanistan was tightly linked to the Muslim Brotherhood, including its operations in "Europe and the United States," all of which were supported by "the governments of the Gulf states, Saudi Arabia, Kuwait, Bahrain, and the UAE."
Chief beneficiaries of the Muslim Brotherhood's assistance in Afghanistan were the Gulbuddin Hekmatayar and Younis Khalis factions of Hizb Islami, the Jamiat i Islam, and the Harakat-i-Inqilab, based in Peshawar, Pakistan.
CIA and Arab support for the Afghan mujaheddin was funneled through Pakistan's Jamiat i Islam fundamentalist group, whose leader, Mian Tufail, was identified in the March 1985 CIA report as a relative of Pakistani President Muhammad Zia Ul-Haq.
Previously published in the Wayne Madsen Report.
Copyright © 2014 WayneMadenReport.com
Wayne Madsen is a Washington, DC-based investigative journalist and nationally-distributed columnist. He is the editor and publisher of the Wayne Madsen Report (subscription required).