Valrico, Florida, is in the heart of the "Strawberry Capital of America" and the spring harvest of these popular berries is fully underway. However, the chilling effect of President Trump's order to round up illegal immigrants, many of them farm workers, stands to do more damage to the strawberry industry than any winter deep freeze. Many undocumented farm workers, fearful of being arrested by federal Immigration and Customs Enforcement (ICE) agents, are hunkered down in their trailers and manufactured homes. The region's strawberries would rot in the fields if it were not for the largely Mexican workforce that ensures that the crop reaches consumers in short order. The fear that Trump has thrown into the farm work force has local businesses and politicians irate over the president's detention and expulsion order. Many local residents, most of whom voted for Trump, now have voters' remorse as the strawberry industry faces irreparable harm.
Undocumented farm workers, fearing ICE roundups as they work in the fields, are staying home. Many strawberry fields are absent the scores of workers who are usually seen harvesting strawberries this time of the year. And the fear of ICE raids has dampened the enthusiasm for the annual Florida Strawberry Festival that is held in Plant City from March 2 to March 12.
In his address to a joint session of Congress on February 28, Trump said he was establishing within the Department of Homeland Security, the same department that houses ICE, an office called VOICE: Victims Of Immigration Crime Engagement. VOICE would act as a de facto version of the Stasi or Gestapo and respond to tips from citizens on the whereabouts of illegal immigrants. Trump's announcement may have been met with gasps and groans from members of Congress, but it further terrified members of undocumented farm worker communities across America.
The ill-effects of Trump's deportation threat and now VOICE is not only felt in Florida's strawberry region. Drive five hours north on Interstate-95 and you are in the heart of Georgia's Vidalia onion country. A warm winter means that the annual harvest of the crop of Georgia's popular sweet onions will likely take place weeks earlier than the normal mid-April time-frame, likely the end of March. Trump's "military operation" to round up illegal immigrants may result in most of the Vidalia onions rotting in the fields. Georgia's undocumented farm workers, like their colleagues in Florida, are hiding out from what they fear are patrolling ICE agents ready to swoop in and grab them and their families.
ICE agents cannot expect to get any help for their round ups from local law enforcement. The Valdosta Daily Times recently reported on one county sheriff, Ashley Paulk of Lowndes County, warning the feds not to even think about rounding up illegals in his county, which handily voted for Trump. Paulk told the newspaper, "We've got a lot of Hispanics working the farms here . . . [the farms] can't run without them. They [the Hispanics] pay sales tax, they pay gas tax." Paulk told The Atlanta Journal-Constitution that he will only assist the feds if they produce a warrant for a specific violent individual. He promised he would not allow his county jail to be used as a federal detention center for law-abiding undocumented workers.
Although Paulk is a Democrat who beat a Republican by the same 57 percent margin by which Trump bested Hillary Clinton in Lowndes County, Republican sheriffs in neighboring counties agree with Paulk. Randy Courson, the sheriff of Echols County, told the Atlanta Journal-Constitution that his sheriff force would not be hunting down illegal immigrants. Echols County is the carrot capital of the world and Courson said the Hispanic workers in his county are "hard working, good people that are already here with established families." He added, "we've got too much other stuff that we need to be doing." Former Georgia Republican state senator Tommie Williams agrees with Courson. Williams hires Mexican H-2A temporary worker visa holders at $11 an hour to harvest pine straw on his farm near Vidalia, Georgia. The reliance on visa holders by local farmers came after the state enacted a 2011 law banning illegal immigrants from working in Georgia. The result was a $79.9 million loss for seven crops across the state because of a shortage of farm workers. County sheriffs and local farmers are not about to see a repeat of that just because Trump wants to satisfy a rabid base of anti-immigrant supporters.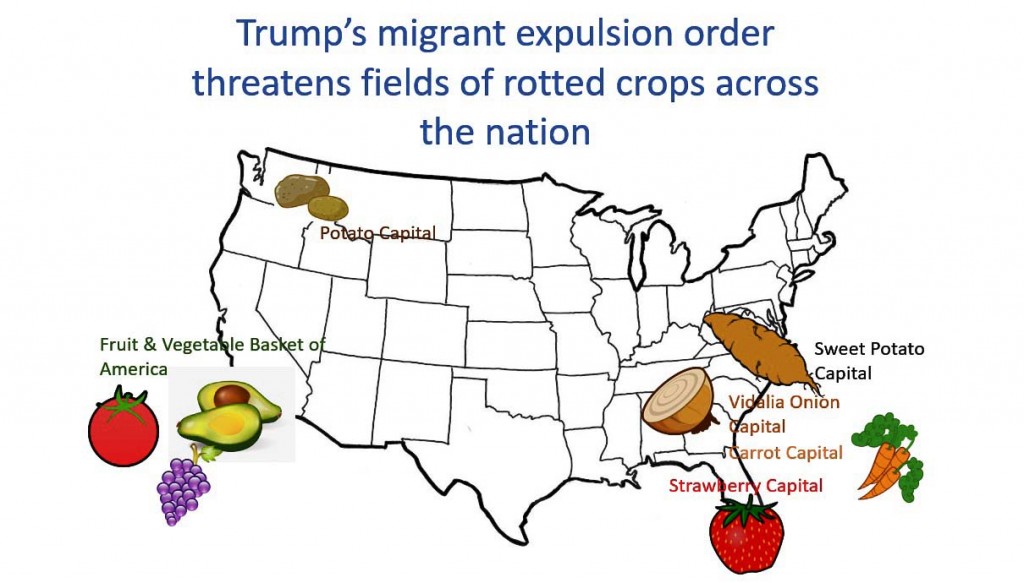 Although farmers in California's agriculture-rich Central Valley largely backed Trump, the migrant deportation order being carried out by ICE agents threatens disaster for the region that produces most of America's fresh fruits and vegetables. Seventy percent of farm workers in the valley are undocumented and without them, California's $65 billion agricultural industry would not exist. A shortage of farm workers from the Trump deportation order, on the heels of a devastating drought, could jeopardize California's crops of lettuce, grapes, melons, tomatoes, asparagus, peas, oranges, avocados, and other crops. Farmers in Idaho, who depend on Mexican migrant farm laborers, face disaster if they cannot harvest the state's iconic potatoes. The same situation exists across America's farm belt. The current situation with petrified migrant farm workers and idled fields also extends to Colorado, Texas, Michigan, Pennsylvania, North Carolina, Arkansas, and Tennessee.
For farmers, Trump's policy spells potential economic ruin. For American consumers, it means skyrocketing inflation at the supermarket. And for Trump, an angry group of influential voters in rural red states and price-gouged consumers in cities and suburbia could very well end in a political disaster for Republicans in the 2018 election for Congress and statehouses.
Previously published in the Wayne Madsen Report.
Copyright © 2017 WayneMadenReport.com
Wayne Madsen is a Washington, DC-based investigative journalist and nationally-distributed columnist. He is the editor and publisher of the Wayne Madsen Report (subscription required).