Donald Trump has named Phillip Goldberg, an arch-interventionist U.S. diplomat and acolyte of the "regime change" dogma of hedge fund mogul George Soros, as the interim chargé d'affaires of the U.S. embassy in Cuba. Goldberg's task will be to initiate Soros-inspired themed street demonstrations in Cuba when Cuban President Raul Castro steps down on April 19 of this year.
Goldberg will replace Lawrence Gumbier, who has served as chargé since last October.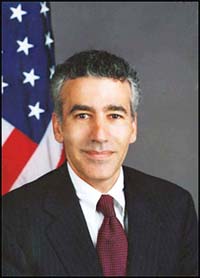 Goldberg [pictured, left] is not liked in Latin America. As ambassador to Bolivia, Goldberg's involvement in Bolivia's domestic politics earned him an expulsion in 2008 by the government of President Evo Morales. Goldberg also served as the chief of the U.S. mission in Kosovo, a Mafia-run state that would not have been created and thrived had it not been for the efforts and influence of Soros over European Union and U.S. State Department policies during the administrations of George W. Bush and Barack Obama.
Goldberg, a former assistant secretary of state for intelligence and research, is an integral member of the U.S. intelligence bureaucracy and a "deep state" functionary of the highest order. Goldberg's placement in Cuba by Trump is yet another indication that Trump's rhetoric about his combating the "deep state" is pure political rhetoric having no basis in fact.
Cuban-American Senators Marco Rubio (R-FL) and Robert Menendez (D-NJ) have blocked the appointment of a full U.S. ambassador to Havana. President Obama nominated Cuba expert and diplomat Jeffrey DeLaurentis as ambassador but his nomination died in the Senate.
While in La Paz, Goldberg ran a major Central Intelligence Agency espionage operation out of the embassy. Before Goldberg, himself, was expelled from Bolivia in 2008, assistant regional security officer at the U.S. embassy, Vince Cooper, was declared persona non grata by the Bolivian government and charged with espionage. Cooper had attempted to enlist U.S. Peace Corps volunteers and at least one Fulbright scholar in Bolivia to spy on Cuban and Venezuelan nationals in the country. One Fulbright scholar approached by Cooper, John Alexander van Shaick, blew the whistle on the espionage operation.
Goldberg supported secessionist movements in the energy resource-rich states of Santa Cruz, Beni, Pando, Cochabamba, and Tarija. Goldberg's activities, supported by the CIA station in La Paz and U.S. Special Forces in the country, sought to break away 35 percent of Bolivia's population to weaken Morales's government. Goldberg also supported the "Santa Cruz Autonomy Statute," which tried to withhold two-thirds of Santa Cruz's tax revenues from Morales's government and establish an autonomous state-wide police force.
Goldberg was also reportedly a part of a CIA terrorist operation in Bolivia that blew up a gas pipeline from Bolivia to Sao Paulo, Brazil. The severing of the pipeline cut Bolivia's natural gas output to Brazil by 10 percent. Other Goldberg activities included coordinating anti-Morales actions by the right-wing governors of Santa Cruz, Pando, Beni, and Tarija. Opposition groups funded by the United States took over government buildings in the four states. The opposition also cut the gas flow to Brazil and Argentina by taking over gas installations.
Goldberg's actions left Morales no choice but to expel him from Bolivia in 2008. In solidarity with Morales, Venezuelan President Hugo Chavez also expelled the U.S. ambassador in Caracas and Nicaragua's president, Daniel Ortega, sent the U.S. ambassador in Managua packing. In expelling ambassador Patrick Duddy, Chavez said, "Yankees, go to hell," adding that the United States was "full of shit."
As U.S. ambassador to the Philippines, Goldberg immediately involved himself in that nation's 2016 presidential election. Goldberg endorsed and assisted the campaign opponents of the eventual victor, Rodrigo Duterte. In August 2016, irritated by Goldberg's election meddling, Duterte called Goldberg a "'bakla' son-of-a-bitch." Bakla is Tagalog for gay.
In dispatching Goldberg as his "man in Havana," Trump has left no doubt that he expects the U.S. diplomat to stir up political violence and disruption in Cuba after Castro's resignation in April. Trump's Cuba policy, which foresees Trump and Scion hotel properties edging out Marriott, Hilton, Sheraton, Sofitel, and other chains in a country governed in a post-Castro era by returning right-wing Cubans from south Florida, is as obvious as Goldberg's jaded diplomatic resumé. Goldberg also represents Trump's growing neo-conservative contingent, which includes ambassador to the United Nations Nikki Haley and ambassador to Israel David Friedman, within key ranks in the State Department.
Previously published in the Wayne Madsen Report.
Copyright © 2018 WayneMadenReport.com
Wayne Madsen is a Washington, DC-based investigative journalist and nationally-distributed columnist. He is the editor and publisher of the Wayne Madsen Report (subscription required).