It was less than five years ago that U.S. troops in Iraq were coordinating with Iranian Major General Qassem Soleimani and members of his elite Al Quds Force of the Islamic Revolutionary Guard Corps (IRGC) attacks on the forces of the Islamic State of Iraq and the Levant (ISIL) in Iraq. The Al Quds Force is the foreign expeditionary arm of the IRGC.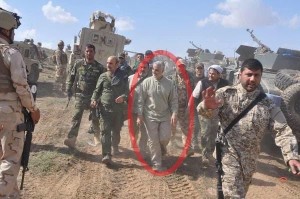 A 2015 photograph showed Soleimani [circled] in Tikrit, the hometown of the late Iraqi president Saddam Hussein, along with U.S., Iraqi government, British, and French forces, as well as members of the Iraqi Shi'a Popular Mobilization Forces (PMF). During the battle with ISIL, Soleimani also coordinated operations against the Saudi-backed jihadist forces with Peshmerga paramilitary forces of the Kurdistan Regional Government in northern Iraq.
The 2015 photo illustrates the battlefield operational ties between Soleimani and the Americans in wresting control of Tikrit from ISIL forces. In fact, Soleimani personally led U.S.-armed Iraqi government military forces and Iraqi Shi'a paramilitary units in the successful battle of Tikrit, an accomplishment that earned him hero status among the Iranian people and many Iraqis, in addition to the grudging respect of U.S. and allied military commanders in Iraq. Soleimani was so popular among Iranians that he was considered to have been a potential presidential candidate to replace incumbent president Hassan Rouhani.
The U.S. embassy in Baghdad coordinated U.S. air cover for Soleiman's Al Quds personnel and members of the Iraqi Shi'a Badr Army. The Badr units were headed by Iraqi member of parliament and former Iraqi Transportation Minister Hadi Al-Amiri, who was taken into custody in Baghdad by U.S. Marines following the assassination of Soleimani. It was Al-Amiri who then-U.S. ambassador to Iraq Stuart Jones promised U.S. air support for his and Soleimani's forces in the battle for Tikrit.
Tikrit was not the first time Soleimani worked with U.S. forces against a common enemy. In 2001, after the 9/11 attack, Soleimani's Al Quds Force coordinated attacks against the Taliban and Al Qaeda in Afghanistan with U.S. military forces. The cooperation ceased in 2002 after George W. Bush decided to include Iran on a list of "Axis of Evil" nations. Neo-conservatives then began spreading the falsehood that Iran was backing the Taliban and Al Qaeda.
On January 3, Soleimani, who was transiting through Baghdad International Airport en route to Iran from a trip to Syria, where IRGC forces continue to fight against ISIL, the Al Nusra Front, and other Saudi- and Turkish-backed Sunni jihadist forces, was assassinated by missiles fired from a U.S. MQ-9 Reaper drone. The action, which had no U.S. congressional authorization, was ordered by Donald Trump, according to a Pentagon press release. Israel and Saudi Arabia were informed beforehand about the attack and both reportedly endorsed Trump's action. Speaking from Greece before returning to Israel, Israel's recently-indicted prime minister, Binyamin Netanyahu, praised Trump's decision to assassinate Soleimani. Secretary of State Mike Pompeo informed Chinese Politburo Member Yang Jiechi and Russian Foreign Minister Sergey Lavrov about Trump's decision to kill Soleimani.
There is a strong indication that Trump told his son, Eric Trump, about the decision to target Soleimani two days before the attack occurred. Eric Trump, in a December 31, 2019 tweet that he has since deleted, wrote, "Bout to open a big 'ol can of whoop ass." The tweet included a hashtag for the Twitter feed of Jack Posobiec, a lunatic right-wing conspiracy theorist who appears on the far-right "news" channel One America News Network (OANN).
China, Russia, Iraq, Syria, Lebanon, Lebanese Hezbollah, the Houthi-led government of Yemen, Hamas, and France condemned the assassination of Soleimani. In a tweet, Iranian Foreign Minister Javad Zarif called the U.S. killing of Soleimani a "dangerous and foolish escalation." Supreme Leader Ayatollah Ali Khamenei named as Soleimani's replacement, Al Quds Force deputy commander, Esmail Qaani. In commenting on Soleimani's assassination, Khamenei issued a January 3 statement: "Martyrdom was his reward for years of implacable efforts. With his departure and with God's power, his work and path will not cease and severe revenge awaits those criminals who have tainted their filthy hands with his blood and the blood of the other martyrs of last night's incident."
The U.S. assassination of Soleimani and at least one Iraqi Shi'a militia leader represents the second major abandonment of an erstwhile U.S. ally in the Middle East. Last year, in an agreement with Turkish President Recep Tayyip Erdogan, Trump gave permission for the Turks and their jihadist allies to ethnically cleanse Syrian Kurds and their militia and government from Rojava in northern and eastern Syria. Several hundred Syrian Kurds were massacred after Trump's green light to the Turks.
Iraqi Prime Minister Adel Abdul-Mahdi called the U.S. assassination of Soleimani a "flagrant violation of his nation's security agreement with the United States."
Killed at Baghdad airport, along with Soleimani, was the Iraqi commander of the PMF, Abu Mahdi al-Muhandis, who also founded the Shi'a group Kataib Hezbollah, which is part of the PMF. The two killings have led to further massive protests at the U.S. embassy in Baghdad.
The U.S. State Department issued a travel advisory urging "U.S. citizens to depart Iraq immediately."
U.S. and Israeli propaganda outlets, including Fox News, Washington Examiner, the Jerusalem Post and others, claimed Soleimani was responsible for "thousands" of U.S. deaths arising from terrorist attacks carried out by his Al Quds Force. In a tweet sent on the morning of January 3, Trump falsely wrote that Soleimani had been responsible for "the deaths of millions of people, including the recent large number of PROTESTERS killed in Iran itself." On January 3, Pompeo tweeted a dubiously-sourced video claiming to show Iraqis dancing on a street in Baghdad while carrying an oversized Iraqi flag in celebration of Soleimani's assassination.
The photo of Soleimani alongside U.S., French, British, Kurdish, and Iraqi government and paramilitary forces belies Trump's and the neo-conservatives' lies about Soleiman having had the blood of "thousands" to "millions" of people, including U.S. troops, on his hands.
Last year, Soleimani sharply criticized Pakistan for giving safe haven to a radical Sunni group, Jaish al-Adl, that carried out a suicide bombing that killed 27 IRGC troops on February 13, 2019 in Iran's Sistan-Baluchistan province. Soleimani stated: "Are you [Pakistan], who have atomic bombs, unable to destroy a terrorist group with several hundred members in the region? How many of your own people have been killed in different terrorist operations? We do not want your condolences, how could your condolence help the people of Iran?"
The U.S. Central Intelligence Agency and the Saudis are believed to give support to Jaish al-Adl and other anti-Iran Baluchi terrorist groups that target Iran.
And that brings up a key question. When Trump and his supporters and enablers, as well as all Democratic presidential candidates, call Soleimani a terrorist, who are the actual terrorists?"
Previously published in the Wayne Madsen Report.
Copyright © 2020 WayneMadenReport.com
Wayne Madsen is a Washington, DC-based investigative journalist and nationally-distributed columnist. He is the editor and publisher of the Wayne Madsen Report (subscription required).