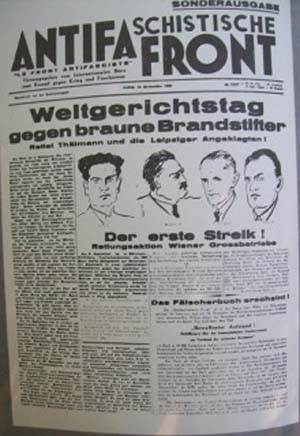 The use of false flag operations designed to crush democracy and create tyranny has a long and sordid history. Arguably the most notorious and effective one took place in Berlin with the burning of the Reichstag on February 27, 1933, less than a month after Hitler was named Chancellor by an anxious capitalist elite threatened with a workers revolution. The very next day President von Hindenburg stripped the German people of core freedoms protected under the Weimar Constitution and thereby opened the legal door for the Nazi reign of terror. The empowered Nazis, who were the actual arsonists, successfully laid blame on anti-fascists, particularly Communists, and began a bloody campaign of persecution and extermination of all opponents of Hitler's Third Reich. Within weeks some 10,000 German anti-fascists were rounded up and sent to concentration camps. Yet anti-fascist resistance continued both inside the Third Reich and in exile. Among the most effective of the early anti-fascist organizations was the Paris-based "International Struggle Against War and Fascism" and its widely distributed publication "ANTIFAschisticheFRONT", which demanded the downfall of the brown-shirt arsonists in its September 1933 edition. That did not happen, and internal Nazi terror systematically degenerated into total war by 1939 when a series of false flag operations along the German-Polish border were used to justify the invasion of Poland.
Since its use in the 1930s as the title for an anti-fascist publication, ANTIFA has gained new notoriety in 2020. So have false flag operations. On May 31, St. John's Episcopal Church on Lafayette Square one block from the White House, "The Church of Presidents", was damaged by arsonists. It was Pentecost Sunday, a day when the scripture reading for churches everywhere came from the account of the first Pentecost recorded in the Book of Acts which, interestingly enough, makes explicit reference to "tongues of fire." No reference to Pentecost or anything else was made by President Trump holding a bible during his brief visit to the damaged church the very next day. A path through Lafayette Park was cleared for Trump and his entourage (Attorney General Barr; Secretary of Defense Esper; Chairman of Joint Chiefs of Staff Milley) by violently driving out anti-racist protestors with clouds of tear gas and swarms of baton-wielding officers decked out in riot gear. Immediately before this awkwardly staged photo op at the church, Trump issued a short but ominous threat in the Rose Garden to protestors, singling out Anitifa twice by name. Similarly, right-wing media outlets, like Christianpost.com were quick to post tweets blaming the church arson on Antifa and claim that "earlier in the night, rioters ripped down a U.S. flag displayed outside the church as people chanted burn that shit."
This has all the markings of a false flag operation, but an unsuccessful one. The same holds true for a series of violent attacks, arson fires, organized looting and wanton property damage perpetrated by a host of agent provocateurs throughout the country who infiltrated Black Lives Matter protests in the wake of the police murder of George Floyd in Minneapolis on Memorial Day. Members of scores of violent right-wing groups, some recently minted, emerged from their chambers of hate onto the streets of America to damage the legitimacy of anti-racist protests as much as possible. Though carrying various group identities, several agent provocateurs also carried various assault weapons to demonstrations and all carried the common goal of inciting violence to such extent that it would ignite a fascist counterrevolution through accelerationism. The intent is to accelerate societal collapse; foment civil disorder; foster polarization; and, as one of their leading neo-Nazi ideologues put it, "to fan the flames" against "The System." That may have literally been the plan in Minneapolis, epicenter for the mass protests, where some 87 fires broke out in a span of five days following the police murder of George Floyd. On the night of May 30 alone, over 40 persons were arrested in Minneapolis and, according to its safety commissioner, "some were people linked to white supremacist groups."
Among the most vicious and violent of the white supremacist groups is The Base (in Arabic, al-Qaeda), founded in 2018 and hell-bent on fomenting a race war to create white ethnostates. Its recruiting motto is "save your race, join the base." In January 2020 three of its members were arrested in Georgia for plotting to murder a married couple affiliated with Antifa. An older racist group, Alexandria-based Identity Evropa, whose members habitually show up to assault and harass protesters at Trump rallies, recently ran a fake ANTIFA Twitter account calling upon members to loot "white hoods." ANTIFA was also explicitly identified as a "threat to national security" and its members as "domestic terrorists" in a video recently posted by Three-Percenters, a pro-gun right-wing militia taking its name from the belief that only 3% of American colonists actively fought against the British; one of their members, the leader of the White Rabbit Three Percent Illinois Patriot Freedom Fighters Militia, was arrested for bombing a mosque in Minnesota. The very name of another extreme right-wing outfit, Boogaloo, is a code word for another civil war. Three of its members, all with extensive  military experience, were arrested in Nevada for manufacturing explosives to be used at protests in Las Vegas and for urging participants to resort to violence. Another "Boogaloo Boi" was arrested in Texas in April after declaring his intent to kill police officers. Some have a habit of displaying Nazi symbols and all carry assault weapons wherever they appear as they have at protests in at least six states. Related in ideology and identify are the Proud Boys, a virulent pro-Trump gang of thugs who plan to hold a "Resist Marxism" rally in Providence in 2020 and pride themselves in their stated desire to "smash commies." Their affiliate on the West Coast, Patriot Prayer, engaged in violent actions in Los Angeles and Portland. Heavily armed members of another      vigilante gang, New Mexico Civil Guard, showed up at a BLM protest on June 1 to harass and intimidate participants. Three heavily armed white men from southern Ohio     who identified themselves as "Ohio patriots" menaced peaceful protesters in Warren in NE Ohio. At least one Boogaloo member, armed with assault weapons, traveled from North Carolina to infiltrate protests in Minneapolis. Two young anti-government agitators who traveled from Pennsylvania to protests in Cleveland were arrested for conspiring to incite violence after police found commercial fire gel, a Glock firearm, ammunition, spray paint and a hammer in their car; five others carrying fire starters were arrested for trying to break into Progressive Field, home of the Cleveland Indians. At a June 5 news conference, the U.S. Attorney for northern Ohio affirmed the hijacking of peaceful protests: "So let me get out in front of any questions as to whether there were out-of-state agitators who hijacked last weekend's peaceful protest for their own purposes. The answer is undoubtedly yes, as seen with today's arrests." The same can be said for nearly all other protests.
While there have been occasional expressions of solidarity between police and protestors, unprovoked police violence against protestors remains the norm, often with fatal consequences as in Columbus and Louisville where protestors were killed by police action; two other protesters were killed in Indianapolis by unknown assailants. Also increasingly common is outright affiliation of law enforcement officers with white supremacist groups. A former Officer of the Month in the Philadelphia Police Department proudly wears a Nazi tattoo on his arm. A current Chicago police officer actively engaged with Proud Boys in a "Fuck Antifa" telegram chat channel. Among the New Mexico Civil Guard harassing protesters was an officer from the ICE prison in Torrance County. A former sheriff's deputy in Illinois is an active member of a Three Percenters militia. A heavily disguised white man who wantonly smashed windows with a hammer at a Minneapolis AutoZone store and sprayed-painted "Free Shit for Everyone Zone" on its wall is alleged to have been a St. Paul police officer. To facilitate  destruction of property piles of bricks have been strategically placed and left unattended in several U.S. cities hit by major protests. And as happened with the murder of a young woman protesting the "Unite the Right" rally in Charlottesville, cars are increasingly being used as weapons against BLM protestors who are commonly labeled "speed bumps" by militias. At least 17 such incidents have occurred since Memorial Day resulting in serious injury to protesters and a few attempted murder charges against their assailants.
A nationwide call from "Team Trump" for direct action against protesters was posted on Facebook in early June by the "Trump Make America Great Again Committee": "Dangerous MOBS of far-left groups are running through our streets and causing absolute mayhem. They are DESTROYING our cities and rioting—it's absolute madness. It's important that EVERY American comes together at a time like this to send a united message that we will not stand for their radical actions any longer. We're calling on YOU to make a public statement and add your name to stand with President Trump against ANTIFA. Please add your name IMMEDIATELY to stand with your President and his decision to declare ANTIFA a terrorist organization." That message, essentially a call to arms, will resonate with millions of pro-Trump Americans, ones who have foolishly forgotten that not so long ago hundreds of thousands of Americans along with millions of others gave their lives in an existential struggle against fascism. "Either the United States will destroy ignorance", prophetically proclaimed W.E.B. Du Bois during another dark period in our history, "or ignorance will destroy the United States." Team Trump is making sure ignorance wins.
While the full extent and nature of ties between white supremacist groups inciting the violence and the Trump regime is unknown, it is clear that both share a virulent racist ideology and praxis. The self-identified "President of Law and Order" has no reservations about explicitly calling for looters to be shot; threatening to unleash "vicious dogs and most ominous weapons" against protesters; identifying elected officials who reject violent suppression of protests as "weak liberals"; labeling protesters themselves, such as the ones he terrorized in Lafayette Park, as terrorists; and surrounding himself with avowed racists like Stephen Miller, a senior Trump advisor and ally of a white supremacist "nativist empire." White supremacy, a defining feature of fascism, is the tie that binds Trump's regime to his racist foot soldiers in the streets attempting to accelerate the trajectory toward civil war in America.
Demonization of anti-fascists in particular and anti-racist protesters in general as "terrorists" has its consequences, both intended and unintended. For we treat people and situations as we define them. As a classic sociological dictum has it: "If men define situations as real, they are real in their consequences." Whether or not the definition is true or accurate is immaterial; false definitions, like false flags, have real consequences. And in this case, to be defined as terrorist is an open invitation for pre-emptive violence, even murder. Also at work here are the dynamics of the self-fulfilling prophecy as articulated by sociologist Robert Merton: "The self-fulfilling prophecy is, in the beginning, a false definition of the situation evoking a new behavior which makes the original false conception come 'true'. The specious validity of the self-fulfilling prophecy perpetuates a reign of error." Reign of terror more accurately approaches our current reality. As of today, the 76th anniversary of D-day which marked the beginning of the end of the fascist Third Reich, US military forces are at a near-wartime alert level (Force Protection Condition Charlie) in and around the nation's capital to stop projected acts of violence by anti-fascists. As proclaimed by Trump on June 1, "I want the organizers of this terror to be on notice that you will face severe criminal penalties and lengthy sentences in jail. This included Antifa and others who wee leading instigators of this violence." However, an internal FBI report found no evidence of Antifa involvement in this violence, but did warn of calls by "far-right provocateurs to attack federal agents" and "use automatic weapons against protesters."
Masters of deceit are not interested in facts, and the Trump regime has repeatedly demonstrated its utter disdain for truth. Given the dismal track record of this thoroughly racist regime, it is not beyond imagination that a major false flag operation is in the works and will explode in the near future or come as an October surprise. If and when that happens, it will be conducted covertly by criminal fascist gangs in the suites emboldened and empowered by a Trump regime threatened with disempowerment.
Attempted manipulation of anti-racist protests by an assortment of far-right groups to ignite a new civil war through a series of coordinated false flag operations has, so far, failed. By contrast, unlike its largely marginalized status for years, the Black Lives Matter movement has caught fire and carries with it the potential for change, radical systemic change. For as Marx clearly realized in another historical context pregnant with potential for revolutionary change: "The weapons of criticism cannot, of course, replace criticism by weapons, material force must be overthrown by material force; but theory also becomes a material force as soon as it has gripped the masses." Black Lives Matter is not only an idea whose time has come, but an idea that has clearly gripped the masses of all colors, especially America's youth. a luta continua vitória é certa.