President Biden condemned China on June 24 for exerting pressure on Hong Kong to close down the special region's only remaining pro-democracy newspaper, Apple Daily. Biden said, "It is a sad day for media freedom in Hong Kong and around the world,"adding, "through arrests, threats, and forcing through a National Security Law that penalizes free speech, Beijing has insisted on wielding its power to suppress independent media and silence dissenting views."
Hong Kong's moves to close the paper came after the arrests of five editors and managers of Apple Daily, including Jimmy Lai, the paper's founder. Those arrested were all accused of "collusion" with foreign countries.
In a comment that underscores Biden's complete hypocrisy when it comes to press freedom, he said, "Journalists are truth-tellers who hold leaders accountable and keep information flowing freely . . . The act of journalism is not a crime." If true, why did Biden's Attorney General, Merrick Garland, wait six months before vacating Trump Justice Department subpoenas for the phone records of journalists with The New York Times, Washington Post, CNN, and USA Today?
In fact, four of Biden's Cabinet members—Garland, Treasury Secretary Janet Yellen, Secretary of State Antony Blinken, and Commerce Secretary Gina Raimondo—have overseen press censorship actions against foreign news websites, something that places them in the same category as the Beijing government, the military junta in Myanmar, Belarus's dictator Alexander Lukashenko, and Turkish President Recep Tayyip Erdogan.
On April 15, Yellen's Treasury's Office of Foreign Assets Control (OFAC) and the State Department's Global Engagement Center (GEC) took malign action, including the imposition of financial sanctions, against Russia-based websites for acting as Russian intelligence "proxies." These included the Strategic Culture Foundation (SCF), for whom this editor has written for some 10 years. Also included on the U.S. sanctions list were SouthFront, which provided invaluable details on military operations in the Syrian and Libyan civil wars, information that ran counter to the propaganda coming out of the Obama administration; NewsFront; and the InfoRos news agency.
The next press censorship moves came on June 22 as Garland's Justice Department and FBI and Raimondo's Bureau of Industry and Security seized control of 33 Iranian, Iraqi, Yemeni, Palestinian, and Bahraini news websites. The Justice Department official in charge of the seizure was Assistant Attorney General John C. Demers of the Justice Department's National Security Division, the same individual who oversaw the continuation of Trump administration's phone and email surveillance of reporters and Democratic members of Congress.
Among the news sites seized were PressTV, an English-language site and the Arabic language Al-Alam, both operated by the Islamic Republic of Iran Broadcasting (IRIB) and both of which this editor appeared on in the past. Also seized were the website for Al-Masirah, the television station of the Yemeni Ansarullah movement, also known as the Houthis. Other websites seized by the Biden administration were Palestine Today, Iraqi websites operated by the Shi'a Kata'ib Hizballah (KH) movement, and the London-based Lualua TV of the opposition movement of Bahrain.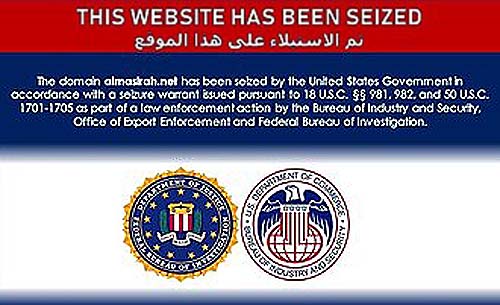 The only justification for this type of press censorship is during a declaration of war. The United States is not and has never been in an official state of war with Russia, Iran, Iraq, Bahrain, Yemen, or Palestine. These sanctions and seizures are an affront to the First Amendment of the Constitution. It is not hard to figure out that behind the scenes pressing for this action have been the two war shrews of the Obama administration who have reappeared within the Biden State Department with increased responsibilities—Undersecretary of State for Political Affairs Victoria Nuland (who is married to the arch-neocon Robert Kagan) and USAID administrator Samantha Power (who is married to the thoroughly-creepy Obama White House "Information Czar," Cass Sunstein).
Most of the websites seized by Justice and Commerce are, fortunately back on line. It might come as a surprise to the less-than-technically inclined Nuland and Power that thanks to the dynamic packet switching technologies at the heart of the Internet, all of which were developed by the Pentagon's Advanced Research Project Agency (ARPA) in the 1970s and 80s, efforts by the United States to shut down the global web, in whole or in part, are fruitless. That is because the Internet and ARPAnet before it, were designed by U.S. government engineers to survive a nuclear war.
As for the censorship zeal of those like Garland, Blinken, and Yellen, they are no different than Florida Republican Governor Ron DeSantis, who is now requiring faculty and students at Florida public universities and colleges to register their political viewpoints with the state. There is only one word for Garland, Blinken, and Yellen in response to their "digital book burning"—shanda!
And to paraphrase Mr. Biden: journalists practicing journalism—whether or not they are in Iran, London, Washington, Gaza, Baghdad, or Sana'a—is not a crime. Perhaps that point is better directed by the president to Messrs. Garland and Blinken and Mmes. Yellen and Raimondo than it is to the government in Beijing.
Previously published in the Wayne Madsen Report.
Copyright © 2021 WayneMadenReport.com
Wayne Madsen is a Washington, DC-based investigative journalist, author and nationally-distributed columnist. A member of the Society of Professional Journalists (SPJ) and the National Press Club. He is the editor and publisher of the Wayne Madsen Report (subscription required).