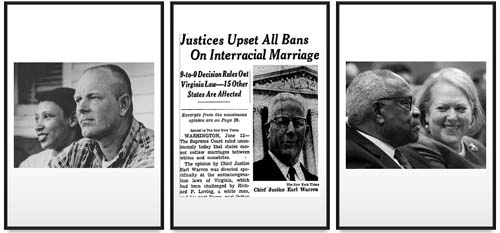 As Republicans turn back the clock by outlawing abortions—even in cases of rape, incest, and the life of the mother being at stake—same gender marriages and sex, and access to contraceptives, another right stands to be obliterated by that party that is enacting what the America First Committee, German-American Bund, and Ku Klux Klan could have only dreamed about in the 1930s: a ban on interracial marriage.
In 1958, Virginia residents Richard and Mildred Loving were sentenced to a year in prison for marrying each other. The couple was found guilty of violating Virginia's Racial Integrity Act of 1924, which prohibited marriage between white and those deemed by the state to be "colored." After their conviction was upheld by the Virginia Supreme Court, the Lovings appealed to the U.S. Supreme Court. In the 1967 case, Loving v. Virginia, the court found that the Virginia law outlawing miscegenation violated the Equal Protection and Due Process Clauses of the Fourteenth Amendment to the U.S. Constitution. In 2015, the Loving decision was cited by the Supreme Court as precedent in its decision in Obergefell v. Hodges.to legalize same-sex marriages. That decision, along with the 2003 Lawrence v. Texas decision that stipulated state laws banning same-sex activities were unconstitutional and Griswold v. Connecticut, which legalized access to contraceptives nationwide, were placed on the chopping block by Supreme Court Associate Justice Clarence Thomas in his opinion that overturned Roe v. Wade, the 1973 decision that legalized abortion.
Thomas, who is black, carefully omitted any reference to Loving v. Virginia in his opinion that directly threatened to overturn Obergefell, which was based on Loving. That is because Thomas's second marriage has been to a white woman, whose name, ironically, is Virginia ("Ginni") Lamp Thomas. Although Thomas pulled back from showing total hypocrisy by omitting Loving from his list of Supreme Court rulings to be overturned, Senator Mike Braun (R-IN) had no such problem. In a March press conference, Braun said he favored leaving the issue of interracial marriage up to the states. Braun, who let his outward display of racism get the better of him, tried to walk back his statement but the cat was out of the bag. If next week's Conservative Political Action Conference (CPAC) in Dallas is any indication of the ultimate fate of Loving v. Virginia, legal interracial marriage may be on the chopping block. That is because keynoting the Dallas event will be Hungary's fascist prime minister Viktor Orban, an avowed opponent of racial "mixing."
In a recent speech in Romania, Orban, speaking for all "Europeans," said, "we do not want to become peoples of mixed race." Orban's adviser for over twenty years, Zsuzsa Hegedus, quit in disgust over what she said was "pure Nazi text worthy of Goebbels," a reference to Nazi Germany's Propaganda Minister. Goebbels's tactic of incessantly lying to the German people has been adopted by modern-day Nazi clones from Donald Trump and Florida Governor Ron DeSantis to Brazilian President Jair Bolsonaro and Fox's Tucker Carlson. A recent CPAC conference in Budapest, which Orban co-sponsored and to which Trump, Tucker Carlson, and Trump White House chief of staff Mark Meadows spoke, also featured a Hungarian pundit, Zsolt Bayer, who is on record calling Jews "stinking excrement," Roma people "animals," and black people "niggers."
Orban will arrive in Dallas after also having made light of the Holocaust in his speech in Romania. In reference to a recent European Union decision pledging to reduce the natural gas demand by member states by 15 percent, Orban, referencing Germany's involvement in the decision on lessening reliance on Russian gas, said, "I do not see how it will be enforced—although, as I understand it, the past shows us German know-how on that."
Orban is the first major European leader to publicly advocate for white European racial purity since Adolf Hitler. And he will be avidly welcomed by CPAC, where Donald Trump, Texas Governor Greg Abbott, Senator Ted Cruz (R-TX), Steve Bannon, UK Brexit Party leader Nigel Farage, Representatives Jim Jordan, Lauren Boebert, Mary Miller (Hitler admirer), and Marjorie Taylor Greene, MyPillow CEO Mike Lindell, vaccine critics Robert Malone and Peter McCullough, former Trump White House aide Stephen Miller, Senator Rick Scott (R-FL), Republican Senate candidate and wife beating advocate J.D. Vance of Ohio, and Sarah Palin are also scheduled to speak.
Previously published in the Wayne Madsen Report.
Copyright © 2022 WayneMadenReport.com
Wayne Madsen is a Washington, DC-based investigative journalist, author and nationally-distributed columnist. A member of the Society of Professional Journalists (SPJ) and the National Press Club. He is the editor and publisher of the Wayne Madsen Report (subscription required).