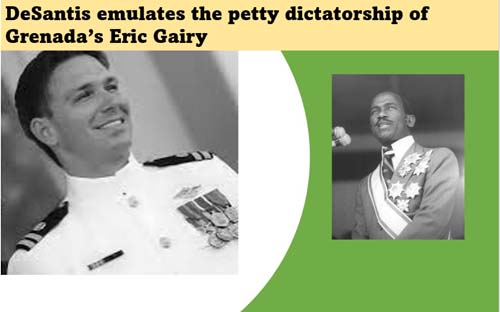 Florida is currently the closest thing to a fascist police state within the borders of the United States. That is primarily due to its Republican authoritarian governor, military "stolen valor" practitioner Ron DeSantis, acting like a tinpot caudillo or dictator, the type that frequently plagued the Caribbean and Latin America over the decades. DeSantis has continually abused his authority as governor. This includes his throwing elected Democrats out of office, in one case at gunpoint, and replacing them with far-right Republican cronies.
One of DeSantis's victims was the successful elected Democratic State's Attorney for Hillsborough County, Andrew Warren. In an op-ed in the Washington Post, Warren described his ordeal in DeSantis's banana republic of Florida: "An armed sheriff's deputy and a governor's aide showed up on Thursday morning at the State Attorney's Office in Tampa, where I was serving as the elected prosecutor for Hillsborough County. They handed me an executive order signed by DeSantis that immediately suspended me from office. Before I could read it, they escorted me out."
Warren, who is suing DeSantis in federal court for his actions, continued in his op-ed: "This is a blatant abuse of power. I don't work for DeSantis. I was elected by voters—twice—and I have spent my entire career locking up violent criminals and fraudsters. Without any misdoing on my part or any advance notice, I was forced out of my office, removed from my elected position, and replaced with a DeSantis ally. If this can happen to me, what can DeSantis do to other Floridians?"
Warren's question would soon be answered. DeSantis did not hesitate to fire other Democratic officials in the state. A few weeks after DeSantis suspended Warren, he struck again by suspending four elected members of the Broward County school board—all registered Democrats—from their non-partisan seats. The four included Patricia Good, Donna P. Korn, Ann Murray, and Laurie Rich Levinson. A former board chairman, Levinson's comments echoed those of Warren in Tampa: "What country is this? . . . What Governor DeSantis did is un-American and undemocratic. He doesn't care about democracy and he overturned the will of the voters." DeSantis replaced the four Democratic members with four right-wing Republican hacks, shifting control of the board to Republicans, which is DeSantis's plan for other county boards currently dominated by Democrats.
DeSantis, a US Naval Reserve Lieutenant Commander in the Judge Advocate General corps, cosplayed a Navy Top Gun fighter pilot in a re-election campaign ad. Other DeSantis ads show him wearing a chest-full of military medals as is the practice of many dictators. DeSantis's military record states that he held the collateral duty of "Awards Officer," which has prompted many veterans to believe he may be a "stolen valor" scamster in awarding medals to himself.
Warren, Good, Korn, Murray, and Levinson are not the first to feel the fascist boot of DeSantis. During the Covid-19 pandemic, Rebekah Jones, the statistician for the Florida Department of Health, discovered that DeSantis was under-counting the number of Covid cases in the state. After Jones was fired by DeSantis, she continued to maintain an Internet dashboard showing the actual number of cases in Florida. DeSantis reacted by sending armed state police to her Tallahassee home. They held Jones and her children at gunpoint. Jones's computer equipment was confiscated and she was arrested. Jones is currently running as a Democrat against Florida U.S. Representative Matt Gaetz, a DeSantis ally who is currently under federal investigation for underage sex trafficking.
DeSantis also fired Dr. Scott Rivkees, Florida's Surgeon General, over Rivkees's advocacy for businesses to remain closed during the height of the Covid pandemic. DeSantis replaced him with Dr. Joseph Ladapo, a medical quack and native of Nigeria.
DeSantis's political war chest is financially propped up by Russian oligarch money. Several Russian billionaires, some close to Vladimir Putin's regime, have invested in real estate and other business ventures in Florida. DeSantis has returned the favor by ensuring the State Administration Board (SAB) which oversees the $200 billion state employees' pension fund, maintains its $300 million investments in Russian companies like Rosneft, Lukoil, Gazprom, and Sberbank that the Biden administration and states like New York, California, and Michigan have already sanctioned. In warning against Russian disinvestment DeSantis told the SAB, "That would violate your fiduciary duty, if you liquidated at massive losses for political reasons rather than for the best interests of the beneficiaries." DeSantis's words were welcome in Moscow and the other capitals where dictators and tyrants reign. When it comes to governing styles, DeSantis apes those of Putin and Hungary's fascist prime minister Viktor Orban.
DeSantis's Russia-connected press secretary, Christina Pushaw, has scoffed at U.S. military and diplomatic support for Ukraine's government and its president, Volodymyr Zelensky. Pushaw has said, "the sad fact is the USA is in no position to 'promote democracy' abroad while our own country is falling apart." Pushaw spent 2011 in Moscow for largely unknown reasons.
In a dictatorial act of vindictiveness, DeSantis removed the special independent governance status for central Florida's largest employer, Disney World. In a pique over Disney's condemnation of DeSantis's "Don't Say Gay" law—itself, a copy of Putin's anti-LGBTQ legislation in Russia—the Florida legislature, as a rubber stamp for DeSantis, passed legislation to abrogate Disney World's special independent district status. Formally known as the Reedy Creek Improvement District and established in 1967, the special status allowed Disney to collect taxes, provide emergency services, pay impact fees, and build new structures without oversight from local planning commissions on 25,000 acres of land in the Orlando/Kissimmee area of central Florida. DeSantis's actions shifted $1 billion in tax liabilities to local residents.
DeSantis's Office of Election Crimes and Security, also known as the "election police," is the first of its kind in the nation. Earlier this month, DeSantis announced the arrest of 20 ex-convicts who he claimed had attempted to illegally register to vote. The Florida Constitution allows ex-convicts to vote, provided they were not convicted for murder or sexual assault. It was later discovered that the 20 felons had been erroneously told by their counties' election supervisor offices that they could vote, which led to charges that DeSantis had set up the 20 in order to stage a "tough guy" news conference in Fort Lauderdale in Broward County, the most Democratic in the state.
One of DeSantis's first acts as governor was to suspend Palm Beach County Supervisor of Elections Susan Bucher, a Democrat. He also formally terminated Broward County Elections Supervisor Brenda Snipes, a Democrat, after DeSantis's predecessor, Rick Scott, had suspended her following the 2018 election that saw Scott defeat incumbent Democratic Senator Bill Nelson. Bucher and Snipes are both African-Americans and there were charges that DeSantis's actions were a result of his unmasked racism. Snipes was replaced by Peter Antonacci, who DeSantis appointed as the chief of his election police. Antonacci is a right-wing Republican, former general counsel to Governor Scott, and member of the Federalist Society.
The closest petty tyrant DeSantis resembles is the first prime minister of post-independence Grenada, Eric Gairy. In 1974, Grenada became independent of Great Britain and initially enjoyed a democratic parliamentary form of government with a Governor-General representing Queen Elizabeth II. That soon changed after Gairy began operating as a dictator.
Gairy was one of the most corrupt and autocratic leaders in the former British West Indies. While all the neighboring Commonwealth member islands maintained Westminster-style democracies, Grenada under Gairy had become a corrupt dictatorship. Gairy, like DeSantis, was eccentric and irrational. Gairy had even urged the United Nations to create a commission to deal with the issue of flying saucers.
Called "Uncle Gairy" by Grenadians, the prime minister claimed to have been "appointed by God" to lead Grenada. Gairy assumed many of the government's Cabinet positions for himself, including External Affairs, Home Affairs, National Security, Tourism, Land and Surveys, National Resources, Planning and Development, and Information. To enforce his rule over the country, Gairy had established a squad of thugs known as the "Mongoose Gang" to mete out punishment to his critics. One of those killed by the Mongoose Gang during an anti-Gairy protest in 1974 was Rupert Bishop, the father of Maurice Bishop, the leader of the leftist New Jewel Movement that ousted Gairy in a 1979 coup. The coup took place while Gairy was at the UN in New York urging it to deal with the UFO issue.
Gairy was always surrounded by his Mongoose Gang when he traveled throughout the island. Sometimes tourists gathered at the bar at the largest hotel in Grenada, the Holiday Inn, would be intimidated by the Mongoose Gang while Gairy decided to drop by. Gairy was accused of harboring a number of American criminals in Grenada, including one wanted by the FBI. DeSantis has offered hiring bonuses to police officers from other states who were suspended or fired for various inappropriate conduct. Today, Florida county sheriffs, most of whom are Republicans, serve the same function for DeSantis as did the Mongoose Gang for Gairy.
There are also strong indications that DeSantis is employing functionaries to intimidate supporters of his Democratic opponent, former Governor Charlie Crist, and Senator Marco Rubio's opponent, U.S. Representative Val Demings. These functionaries appear to be engaged in slapping down rumors about DeSantis's private life, including one that he had an extramarital affair, as governor, with a woman who was a TV soap actress and who once worked as a reporter for One America News and Newsmax.
If Crist defeats DeSantis on November 8, there are lessons from Grenada that should be considered. After Gairy was overthrown, his loyalists destroyed sensitive files in the Prime Minister's Office and other ministries. Democrats should be prepared to obtain court orders that enjoin DeSantis's administration from destroying any files, particularly those dealing with Covid-19 and the suspension of elected Democrats in the state.
Previously published in the Wayne Madsen Report.
Copyright © 2022 WayneMadenReport.com
Wayne Madsen is a Washington, DC-based investigative journalist, author and nationally-distributed columnist. A member of the Society of Professional Journalists (SPJ) and the National Press Club. He is the editor and publisher of the Wayne Madsen Report (subscription required).