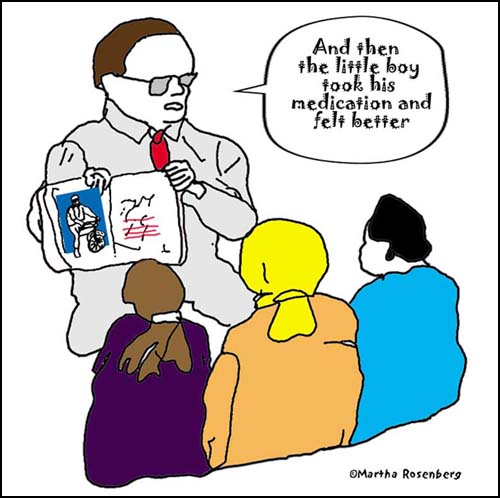 It's happened to anyone who's attended an open-mic session at an FDA advisory committee hearing. A queue of "patients" materializes out of nowhere to testify, often in tears, about the crucial need for approval of a drug the public has often not even heard of. Sometimes the drug has not been approved by the FDA at all, but often it's just not been approved for the use the patients wants—so it's not reimbursable.
"When insurers balk at reimbursing patients for new prescription medications, these groups typically swing into action, rallying sufferers to appear before public and consumer panels, contact lawmakers, and provide media outlets a human face to attach to a cause," writes Melissa Healy of the Los Angeles Times of the artificial grassroots groups, sometimes called Astroturf.
Who are these "patient groups" with Pharma agendas? They include the Depression and Bipolar Support Alliance, which gets half its funding from Pharma and the National Alliance on Mental Illness (NAMI), which received $23 million in just two years from Pharma. Both were investigated by Congress along with Mental Health America, the National Alliance for Research on Schizophrenia and Depression, Screening for Mental Health Inc., Children and Adults with Attention Deficit/Hyperactivity Disorder, the National Center for Mental Checkups at Columbia University (Teen Screen) and the Child & Adolescent Bipolar Foundation.
In recent years, a front group called Active Minds has also surfaced on college campuses to tap the lucrative college "mental illness" market. A lot of money is lost, say Pharma internal documents, when kids go to college and go off the meds their parents and teachers insist they take.
Treating poor people who are on government health plans with expensive drugs is also part of Pharma's plan. "For years, the alliance [NAMI] has fought states' legislative efforts to limit doctors' freedom to prescribe drugs, no matter how expensive, to treat mental illness in patients who rely on government health care programs like Medicaid, says the New York Times. "Some of these medicines routinely top the list of the most expensive drugs that states buy for their poorest patients."
How expensive? The prices listed at DrugStore.com in June 2011 for atypical antipsychotics, for 100 middle dose pills were: Abilify $1,644, Geodon $958, Invega $1,789, Risperdal $953, Seroquel $2,000 and Zyprexa $1,680. The prices for antidepressants at a middle dose for 90 pills were: Celexa $346, Cymbalta $440, Effexor $238, Lexapro $313, Paxil $346, Pristiq $418, Prozac $631, Wellbutrin $311 and Zoloft $381.
Prices for 90 or 100 anticonvulsants pills at a middle dose included Depakote $190, Gabitril $595, Lyrica $282, Neurontin $405 and a walloping $895 for Topamax and $1,040 for Lamictal. (According to the American Enterprise Institute, the government wasted $51 million buying Lamictal in 2009 though a generic was available.)
The cost for common drug "cocktails" is even worse. If a bipolar child is prescribed a middle dose of the mood stabilizers Topamax and Lamictal, the yearly cost would be $23,220. If Seroquel is added, at a cost of $24,000, along with the ADHD drug Concerta at $7,812, and Neurontin at $4,860, one bipolar child would make Pharma $59,892 a year based on 2011 prices at DrugStore.com. No wonder Pharma wants us, the taxpayers, to pick up the tab.
Of course the Pharma buzz is that pills are cheaper than "talk therapy." But the $24 billion a year the US spends on antidepressants and antipsychotics alone would enable 240,000 psychotherapists to provide 6 million hours of psychotherapy according to one journal article. Nor would the therapists require faux patient groups.
Martha Rosenberg is a freelance journalist and the author of the highly acclaimed "Born With A Junk Food Deficiency: How Flaks, Quacks and Hacks Pimp The Public Health," published by Prometheus Books. Evelyn Pringle is a freelance investigative journalist and researcher.