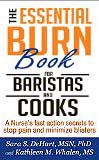 The Essential Burn Book for Baristas and Cooks
A Nurse's fast action secrets to stop pain and minimize blisters
By Sara S. DeHart, MSN, PhD and Kathleen M. Whalen, MS
Kindle Editon
29 pages, $2.99
Quinary5 Press (June 18, 2014)
The Kindle e-book The Essential Burn Book for Baristas and Cooks, co-authored by Sara S. DeHart and Kathleen M. Whalen, is a book essential to have in every home, restaurant, business or place where it is possible to suffer a first- or second-degree burn.
We all suffer first- and second-degree burns from a hot stove, by touching a hot pot or pan, a steaming kettle, a sunburn—you name it. Wherever there is fire or steam, there is potential for a burn.
My relatively high pain threshold vanishes when I suffer the tiniest burn and sends me scurrying for an ice cube, cold water or any metal surface colder than the room temperature to relieve the pain. Applying ice or immersing a burn in cold water, according to Sara and Whalen, is the wrong thing to do, as they can cause a first-degree burn to blister, turning it into a second-degree burn.
Instead, they say that the better and more effective way to relieve the pain of both types of burns is to immerse the area "in cool (not ice) water" and spray it "with lavender essential oil or hydrosol." Even if cool water isn't an option, especially for professional cooks/chefs and baristas who can't take the time for immerse the area in cool water, the lavender essential oil or hydrosol spray can rapidly be applied.
Imagine, a natural, safe remedy that, with a few sprays, takes away the pain of a burn and even prevents infections.
Applying ointments, grease or butter to a burn only makes it worse, because the hold heat into the burned area, causing further damage.
While the book mainly deals with burns, lavender has many other uses, among them insect bites, itching and minor cuts.
DeHart and Whalen have packed an amazing amount of information in a mere 29 pages.
Full disclosure: I had a hand in reading the manuscript and checking for typos before the e-book was published.
Bev Conover is the editor and publisher of Intrepid Report. Email her at editor@intrepidreport.com.